---
About this event:
Created by Pranvera
---
Glin Castle Lodge, Glin Demesne, Glin, Co. Limerick, Ireland
Coming up on 12th May, The Rare & Special Plant Fair was established in 2001 with the assistance of Bord Bia, to ensure that the gardening public has an opportunity to purchase rare, unusual and special plants, and to ensure that small specialist nurseries and breeders of these plants in Ireland have an opportunity to present them for sale. At the same time, the Fair aims to provide an opportunity for visitors to visit a private garden that they might not otherwise, visit.
When: 12 May 2019
Where: Glin Castle, Glin, Co. Limerick
The fair is an annual event, always held on the second Sunday in May. Over the years the event has grown in stature and reputation with the fair being hosted in some of Ireland's most notable and beautiful private gardens, and more recently in public and state gardens of note, including Fancroft Millhouse Gardens, Roscrea, Lakeview Gardens, Co Cavan, Kilfane Glen, Thomastown, Co. Kilkenny, Annes Grove Gardens, Co Cork, Castleforbes, Co Longford, Farmleigh, Phoenix Park, Dublin, and St. Anne's Park, Raheny, and more.
This year, Glin Castle, the ancestral home of the FitzGerald family, Knights of Glin, will play host to this special event on Sunday 12th May 2019.
Source: The Rare and Special Plant Fair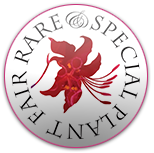 in association with Bord Bia