International success for

Ireland's garden designers
Garden designer and founder of Outside Options, Alan Rudden received a gold medal for his Life is Rosé by Santa Rita 'Living la Vida 120' garden at the RHS Hampton Court Flower Show which ran from 3-8 July. Only seven gold medals were awarded out of a total of 31 gardens exhibiting at what is the world's largest annual flower show. Alan was the only Irish garden designer to exhibit at the show and the only recipient of a gold medal in the world gardens category. He told HC, "I am really thrilled to have received a gold. It has been a lot of hard work, in intense heat, to get the garden built to the standard expected at a show like this. There are some truly stunning gardens here, and for ours to be classed
among the top is a huge honour."
Another success on the international circuit was for Billy Alexander, who won a silver gilt medal at the 2018 Chelsea Flower Show. The garden showcased a collection of ferns grown at Billy and his wife Penn's nursery, Kells Bay House and Gardens in Kerry. HC spoke to Billy when he exhibited at this year's Bloom in the Park. "It was an amazing experience to exhibit at Chelsea. The medal win was very much welcome, but what feeds and nurtures me as a designer and nurseryman is the reaction from visitors to the exhibit. Also, we set out to bring this underutilised range of plants to a bigger audience and I can happily say that we achieved that." Also active on the international scene, selected by a jury to represent the North and South of Ireland in the Jardins de la Paix, were Ian Price and Peter Donegan. Launching in October 2018, this summer will see the start of the build of the Jardins de la Paix (Gardens of Peace), a series of perennial gardens on the theme of peace in the Hauts-de-France region which will pay tribute to the countless deaths on French soil between 1914 and 1918, and bear witness to the number and diversity of the countries involved in this conflict. The pair will create a garden at the Château de Péronne, Historial de la Grande Guerre in the Somme region of Northern France. With two stays already completed, Donegan and Price will next take up a residency in the Somme region, to see the gardens' designs and construction to completion.
HC ASKED GARY GRAHAM OF BORD BIA TO COMMENT ON THE INCREASING SUCCESS OF IRISH DESIGNERS ON THE INTERNATIONAL SCENE
"Alan Rudden's performance at Hampton Court this week and Billy Alexander's performance at the Chelsea Flower Show in May reinforce my long-held view that when it comes to garden design and horticultural prowess, the Irish can compete (and win) with the best in the world. It was this firm belief that gave me the confidence to seek support for the creation of Bloom back in 2007 so that the Irish public could experience and enjoy these Irish masterpieces up close and personal at an Irish garden show.
Designers like Diarmuid Gavin, Paul Martin, Elma Fenton, Mary Reynolds and the Schurmann's (who gave up Germany for Ireland) have clearly demonstrated our ability to shine at international level. JJ Costin's garden at Expo 1991 in Osaka Japan was an early indication of what was possible. Gold medals achieved by Frazer McDonagh and James Comiskey at RHS Tatton Park are further demonstrations of the Irish skill set. Orla and Paul Woods gold-winning display at Chelsea in 2006 provided the impetus for the development of Bloom's nursery and floral pavilion. Paul Martin deserves a second mention here, for his Singapore achievements. I may be missing other names from the long list of luminaries who should be mentioned and for that, I apologise.
I was struck by a number of facts at Hampton Court this week. RHS judges, major exhibitors, journalists, top British garden designers and contractors all speaking of Bloom in glowing terms and of equal standing with the top RHS shows. While constantly striving to innovate and improve, Bloom has come a long way in its first 12 years. Alan's mammoth achievements in scoring a gold at Bloom and gold and best in the show (world category) at Hampton within weeks of each other set him apart from all other garden designers working on both sides of the Irish Sea this year. Not only was Alan's garden a best in category winner, he was also awarded the special RHS Tudor Rose plaque, which is only awarded to the winners of two categories – Show Gardens and World Gardens. So not only is Alan a recipient of one of the seven gold medals awarded, he is, in effect, the joint winner of the overall best in the show at Hampton Court. Supported by Santa Rita, a committed and highly supportive sponsor, Alan and his team have done us all proud. On behalf of everyone in Bord Bia and all the Bloom garden designers who will recognise his huge achievement in 2018, well done to Alan Rudden!" ✽
Saltex builds on the success of

its revitalised show at the NEC Birmingham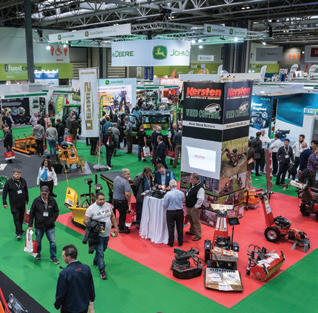 Saltex is the leading turf management event for groundscare volunteers, professionals and manufacturers. It offers you a world of limitless opportunities to discover the latest industry trends and innovations, enhance your education and learn from industry experts over two days at the NEC in Birmingham. This year it also offers a fantastic live networking opportunity for landscapers and gardeners. Lawn Care Legends, a Facebook community created in July 2016, and now it's a thriving online community with over 3,000 worldwide active members. It is primarily a group for all landscapers and gardeners to showcase their work and knowledge and ultimately to support each other. The majority of group members are based in the UK, Ireland, USA, Australia and Canada. Every day on average, the group sees 40-60 individual member posts and approximately 4,500 engagements, from likes to comments.
Conversation topics can be anything from recommendations on products, preferred machines or brands and their pros and cons, or even marketing your business or pricing a job. It is open to professionals and aspiring professionals and encourages the positive aspect of sharing information. HC loves to visit this trade event for the sheer variety of landscape and sports turf sector exhibitors, all under one roof. Also the ease of visiting this international show via direct flights to Birmingham, it's just a 10-minute walk from the airport to the NEC exhibition centre. More at iogsaltex.com ✽
Geaney & O'Neill offering turf repair and

renovation machinery solutions
UCD horticulture

expands in China
Since 2016, UCD has had a programme in horticulture with the South China Agricultural
University at Guangzhou. The first group of students on this 2+2 programme came from the SCAU College of Science. SCAU College of Horticulture has recently joined this programme. From September 2018 horticulture students from Yangzhou University will commence their first year in UCD on a 3+1+1 programme, graduating with a Masters degree in horticulture. More at ucd.ie ✽
Plantarium returns on 22 August with a new emphasis on horticulture technology
In addition to over 300 exhibitors, suppliers will also be given more space to present and demonstrate new technology innovations. This will take place in Technology Square where a stage will be available for suppliers to hold short pitches throughout the day. Trade visitors will have an opportunity to visit the stands to get information before and after the pitches. This well established international event will include exhibitors from 15 different countries and trade visitors from 48 countries, underlining the international nature of the fair. Plantarium is also the leading wholesale market for tree nursery products in Europe. Plantarium 2018 runs from 22-24 August and takes place in Boskoop, The Netherlands. More at plantarium.nl ✽