Over 100 new lines in the Suttons 2019 new seed range! The Suttons Group has over 200 years of gardening knowledge and expertise. Constant testing and innovation have formed a reputation for quality seeds which guarantee outstanding results. This is where their 'Promise in a Packet' originated from. Since purchasing the home division of Chase Organics in December 2017 and taking over the "Organic Gardening Catalogue" website, together with the purchase of National Bee Supplies earlier in 2017, Suttons have extended their ranges to include varieties and mixes that respond directly to important environmental issues such as more sustainable gardening and bee welfare. Whether gardeners are looking to fill greenhouses full of plug plants and use only biological pest control, create a haven for wildlife in their garden, get back to nature with 'feel good gardening' or maybe eat more adventurously by growing something different, Suttons have understood the market trends and are always working to develop products to meet customers appetite for new and interesting varieties to grow.
What's new for 2019
More than an amazing 165,000 visitors saw at RHS Chelsea a strong trend across naturalising outdoor space, dense and colourful planting, all tied together on health and wellbeing. And all whilst drinking a feel-good figure of 10,823 glasses of champagne! They were also able to see that Grow Your Own is set to be a firm favourite. The Glee Retail Lab have also focussed on these topics this year, estimating a rise in Grow your own and naturalisation popularity.
Suttons are hot on these trends this year, launching their really different Pollinators and Predators range with 43 varieties. The range is focused on supporting people to naturalise their gardens, use less chemical and welcoming in nature so that insects can become garden helpers. The ultimate in 'feel good gardening' with natural predator from Hover Flies, Lace Wings and Ladybirds, who can eat as many as 5,000 aphids in a single lifetime. Win the war on aphids by planting the striking Echinacea Brilliant Star or Garlic Chives.
The Honeybee and Bumble Bee have rather different needs from flowers due to their differing physiology, so Suttons have differentiated the varieties of forage they each require. These two pollinator species can help deliver a bumper harvest of cut flowers, vegetables and fruit. Bumblebees are in decline due to habitat loss, and two species have been driven to extinction here since 1940. UK gardens can be visited by up to 25 different species of bumblebee and planting Runner Bean Scarlet Emperor or Wild Foxgloves can make a huge difference to their populations.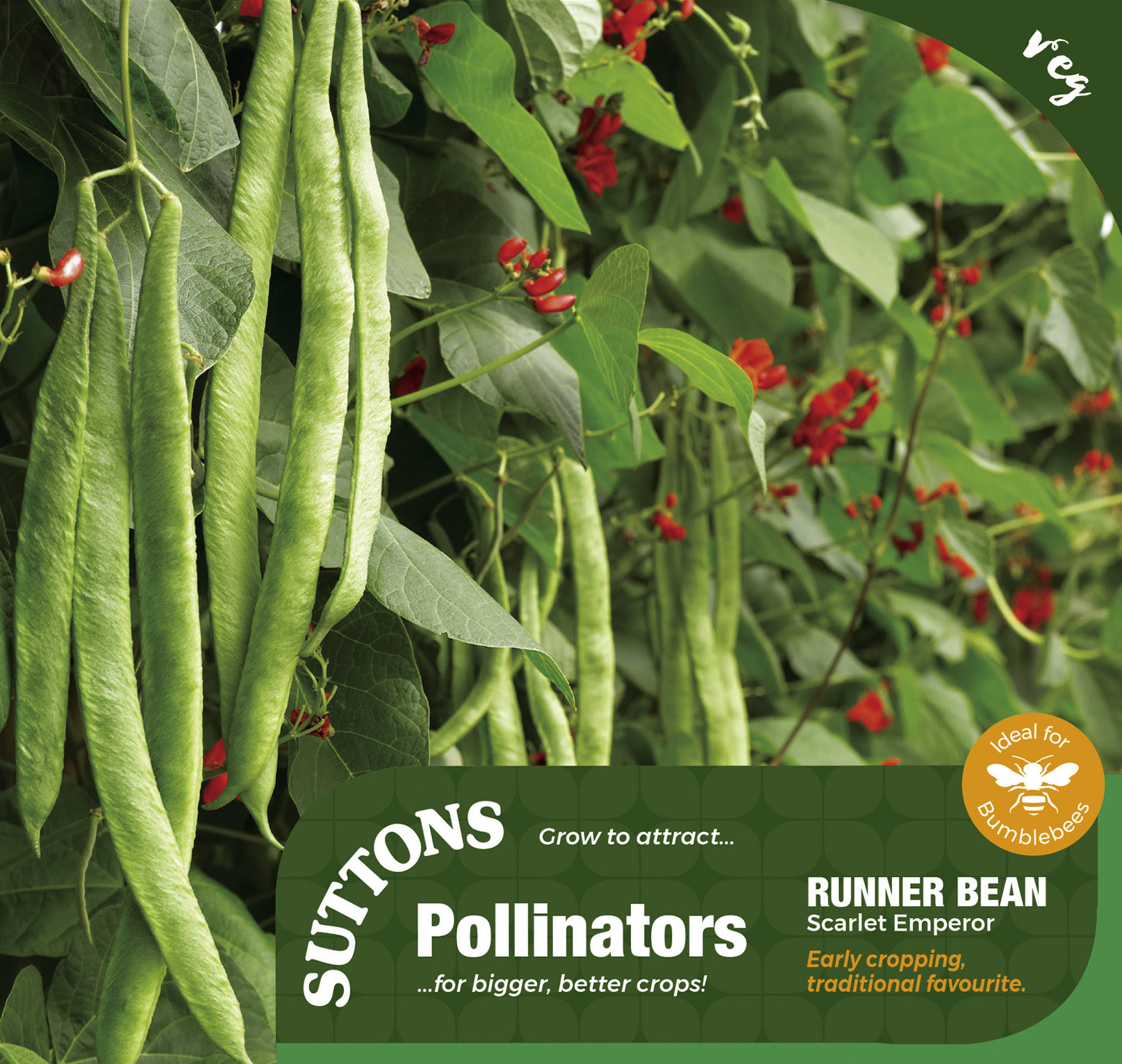 Foraging honey bees support huge colonies of over 20,000 bees in any one hive. Planting Sunflower Waooh and Lime Basil Mrs Burns are excellent ways to provide extra sources of nectar (energy) and pollen (protein) for these tiny workers. This really unique range is based around research and understanding of some of the key issues facing British wildlife and ideal for gardeners wanting to use fewer chemicals, keep bug & bee hotels and generally be a more natural gardener. For those just starting out, try the 99p 'Give It a Go.' (source Friends of the Earth and Wildlife Trust)
Go wild in your garden with 12 new Suttons 100% British Native Wildflower mixes. Now every type of space from shade to bog, can grow specific varieties of wildflowers suited to a particular habitat and support our ecosystems as well as benefit British native wildlife. There are a total of 59 species of butterfly which breed in Britain plus a few migrants. However, there are also a number that are extinct species and species like the small tortoiseshell is in steep decline by as much as 77% in the previous 10 years. The Butterfly mix is specially designed to support them from caterpillar to butterfly. The British Native Wildflower mixes provide a low maintenance, easy grow option that will instantly deliver a naturalised look, whilst making a real difference to local nature. (Source – Countryfile)
The Suttons Bestselling A-Z range is a proven collection of varieties that make it quick and easy for customers to find their favourites as well as discovering something a little different. The Garden Centre stands are peppered with new and exclusive seed varieties to inspire. This year there are 15 new flower varieties and 18 new vegetables. One of the real highlights is the Lettuce OutREDgeous, exclusive to Suttons, which is one of the most exciting stories this year. The very first plant grown, harvested and eaten in space. This deep red lettuce was grown in the NASA Veg-01 experiment on the International Space Station. It's not only sweet with a satisfying crunch but is also ornamental too and so would be perfect to grow amongst blooms. It would also do well on a windowsill this winter and eaten as a baby leaf. Check the packet design too!
Suttons continue to develop and extend the range of blight-resistant tomatoes. This year sees the launch of the New and Exclusive Crimson Blush, a beautiful pink, sweet beefsteak and F1 Summerlast the very first dwarf patio variety. This now adds to the Suttons blight resistant family and is clear evidence of constant research and progress through improved breeding. With the Crimson Crush, there is now a blight-resistant tomato for every shape and every use!
The New and Exclusive Fragrant Tumbler sweet pea is the latest Suttons sweet pea. It has been the result of extensive breeding research over a number of years enabling Suttons to be able to release a new variety every year, each with its own unique attributes. This is part their sweet pea for everyone and everywhere collection. It follows on from the exclusive introduction last year of Fragrant Tide. The collection now includes ground cover, tumbling varieties, basket varieties and traditional climbers.
Every seed has its story to tell, from varieties that support chemical-free pest control to wildflowers supporting insects in crisis, and from blooms smelling of the ever trendy coconut to beautiful deep red lettuce being grown by NASA astronauts! Suttons understand the retail dynamic, their partner organisations really are partners. They also do not discount seeds on direct channels, unlike many brands. Therefore for any consumer considering deferring their purchasing to an online channel, there is no price advantage. That is what Suttons call a partnership!