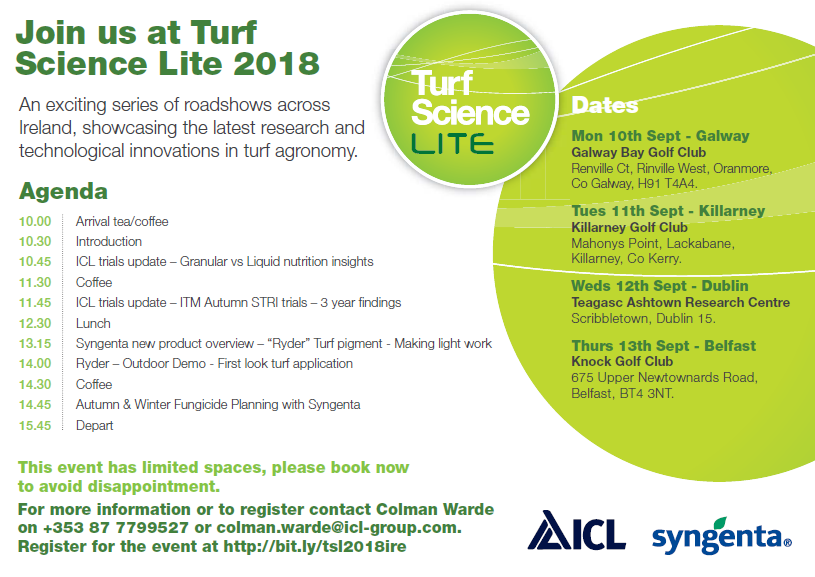 See the review below of Turf Science Lite UK:
Over 200 turf managers, groundsmen, agronomists, greenkeepers and course
managers recently attended four Turf Science Lite education events – a series of
roadshows showcasing the latest research and technological innovations in turf
agronomy, organised by ICL and Syngenta.
The events took place at JCB Golf & Country Club (19 June), Old Thorns Golf Club (20
June), Rudding Park Golf Course (26 June) and St Andrews Links Golf Academy (27 June).
Each of the four events followed a similar format, starting with an introduction by Ed
Carter, ICL's Sales & Development Manager. Henry Bechelet, Technical Sales Manager
for ICL then gave an update on some of the recent ICL trials work. This included the
results of a granular versus liquid nutrition trial which showed that there may be some
agronomic consequences to taking a liquid-only approach, such as increased levels of
weed and disease activity and that further investigations needed to gain a more
complete understanding of the situation. This is particularly relevant to modern
greenkeepers who have become more reliant on liquid formulations in recent years.
Henry said "It's important that our advisors are able to make the best recommendations
when discussing nutritional programmes. ICL invest in this type of trial work to be
progressive and responsible with our advice."
Henry then presented ICL's three-year findings of their ITM (Integrated Turf
Management) Autumn STRI trials, the work showed the importance of taking an
integrated approach when developing our autumn disease management strategies.
The presentation clearly showed that the correct choice of nutrition, moisture
management technologies and well timed iron applications can significantly reduce the
level of Microdochium patch disease scarring. He said "The trial clearly shows that by creating an environment that is less conducive to the establishment of this damaging
disease then we can slow down its rate of development. This is not only important for
limiting the level of damage but it also means that our fungicide technologies have a
better chance of achieving fully effective and long-lasting control. This trial is particularly
pleasing because it substantiates the best practice integrated control strategies that ICL
and Syngenta have been advocating over the years and it also gives greenkeepers a
clear illustration of how they can develop fully effective disease control strategies."
After lunch, Glenn Kirby, Syngenta's new Technical Manager for the UK Turf &
Landscape business presented the new turf pigment, Ryder.
Within the presentation, Glenn explained the damaging aspects of ultraviolet light on
turf and showed how plants can suffer from excessive levels of light, especially when
combined with other plant stresses. The new highly concentrated green pigment
formulation Ryder from Syngenta is designed to provide a natural turf colour response
while also mitigating the problems associated with excessive or damaging light levels.
Delegates then got the chance to see Ryder in action with demonstration plots being
prepared to show the colour responses from Ryder applied at different rates and in
combination with tank-mix partners, such as Vitalnova Stressbuster from ICL. The
results were extremely impressive and stimulated a great deal of interest from the
attendees. Glenn was clearly excited with the potential for Ryder to help greenkeepers
and groundsmen improve the quality and management of their turf by acting as
significant enhancement to new and existing technologies.
Ending the event was Syngenta's Turf & Landscape Portfolio Manager, Rod Burke, who
gave an update on Acelepryn insecticide. An Emergency Authorisation has been granted
for the use of the Syngenta insecticide for the control of Chafer grubs and leather jackets
on golf course greens and tees, horse racing courses and airfields. The approval was
applied for by STRI, on behalf of and with support from the amenity industry. Rod gave
evidence of Chafer Grubs and leatherjackets causing damage to turf through extensive
feeding on roots, which can be severe in localised patches.
The Emergency Authorisation permits Acelepryn use in situations where there is an
acknowledged instance of economic damage and where the product has been
recommended by a BASIS qualified advisor.
Commenting at the JCB event, Karl Williams, Course Manager at Redditch Golf Club said:
"The main reason for us attending was for education and to see ICL's new trial results
from the recent research. The event was very informative and it was also a great
networking event."
Chris Parry, Head Groundsperson at Loughborough Endowed Schools added: "I found
the new Ryder product presentation from Syngenta particularly interesting. It's given me
a few things to think about when I go back to Loughborough. I have a good relationship
with ICL and these events are always a good way to find out about anything new and the
trial work that goes into products before they come on to the market."
Nathan Scarff, Head Groundsman at Derby County Football Club's Pride Park Stadium
said: "The main reason I brought my team here today was for education. It's important
that we know about the products that we put on to our surface and improving our
understanding of them so that we are able to make better decisions as a collective.
Ryder will be something that we will look at in the future. The Integrated Turf
Management for disease suppression presentation was of particular interest as our
stadium is a disease growing environment so getting a better understanding of
products that can be used to reduce disease outbreaks all helps."
Please contact ICL on 01473 237100 or visit www.icl-sf.co.uk or www.icl-sf.ie if you are in Ireland.